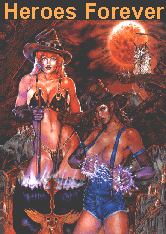 The Heroes Forever Magic Sourcebook provides everything you need to play a mystical oriented character. Play a Witch, Voodum, Genie, God, or Demi-God. Learn about Voodum Powers, Witch's Brews and Curses, the power of Medallions, magical armors and swords, mystical metals and more.

New Powers Inlcude:
- Power Pool
- Reality Control
- Animate Objects
- Elemental Power: Major
- Cosmic Control
- Automatic Weapon Mastery

Learn about the power of Essence and how to us it. Get stats on magical weapons such as the Ark of the Covenant, Holy Grail, Spear of Destiny, Fountain of Youth, etc.

Introducing new and unique mystical metals suchs as Zionic, Force, Star Material and Ashen.

Cover Art by Allen Ditzig.
Interior Art By: Mike Mason, Allen Ditzig, Stephanie Lantry, Ed Heil and Bruce Dowrie.
\
112 Pages. Comic Size.
Perfect Bound
$13.95 -